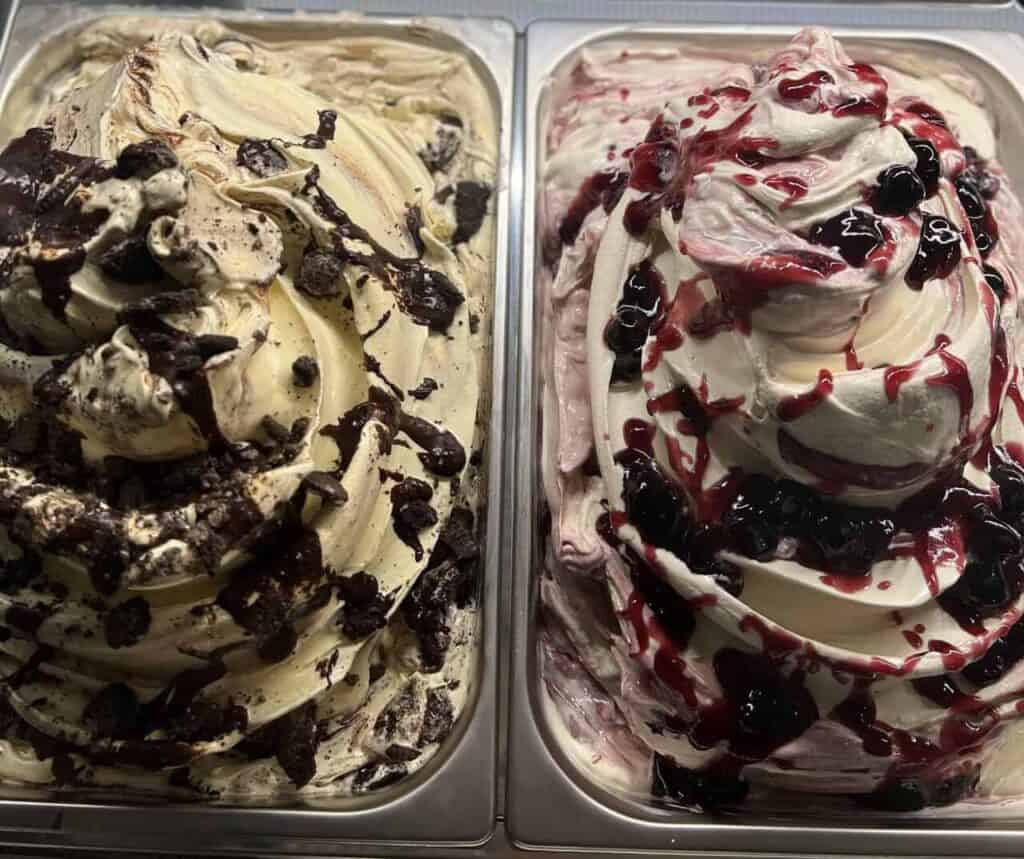 Gelato dates back to the Egyptian era, making it one of the most popular foods in the world. During the reign of the Pharaohs, they offered guests a chalice divided into two: one containing fruit juices and the other containing snow.
In 1565, gelato, as we know it today, came into being. The piece by Bernardo Buontalenti, a native of Florence, Italy, pleased Caterina Dei Medici's court. He blended egg whites, salt, lemon, snow, sugar, and milk into his culinary creation.
The Medici family commissioned Bernardo Buontalenti, a well-known artist and architect, to prepare a beautiful feast for the King of Spain visiting the family during the late 1500s. Buontalenti presented the King of Spain with a delicious frozen dessert we now call gelato, and they credited him with inventing gelato.
When and Where Did Gelato Originate?
Gelato became famous in Europe thanks to Francesco Procopio Dei Coltelli, who was a renowned restaurateur. After leaving Palermo, Procopio opened a café in Paris, which became an important center of innovation. The menu comprised exotic coffees, chocolates, and gelato served in small cups that resembled eggshells. In the early 1960s, the Procope became one of France's most famous cafes, and gelato became popular across Europe.
Giovanni Basiolo took gelato to New York City in 1770. There were two kinds of gelato in the beginning – one made from water and fruit juices such as lemon and strawberries — sorbetto, and another made from milk and cinnamon, pistachio, coffee, and chocolate. 
The year 1846 saw the refinement of the hand-crank freezer, which changed how Americans prepared frozen desserts. In the freezer, the liquid mixture remained constantly moving and cooled, resulting in a product that was no longer granular but somewhat creamy. Despite its relatively new popularity in the U.S., gelato only made its name in the late 1900s.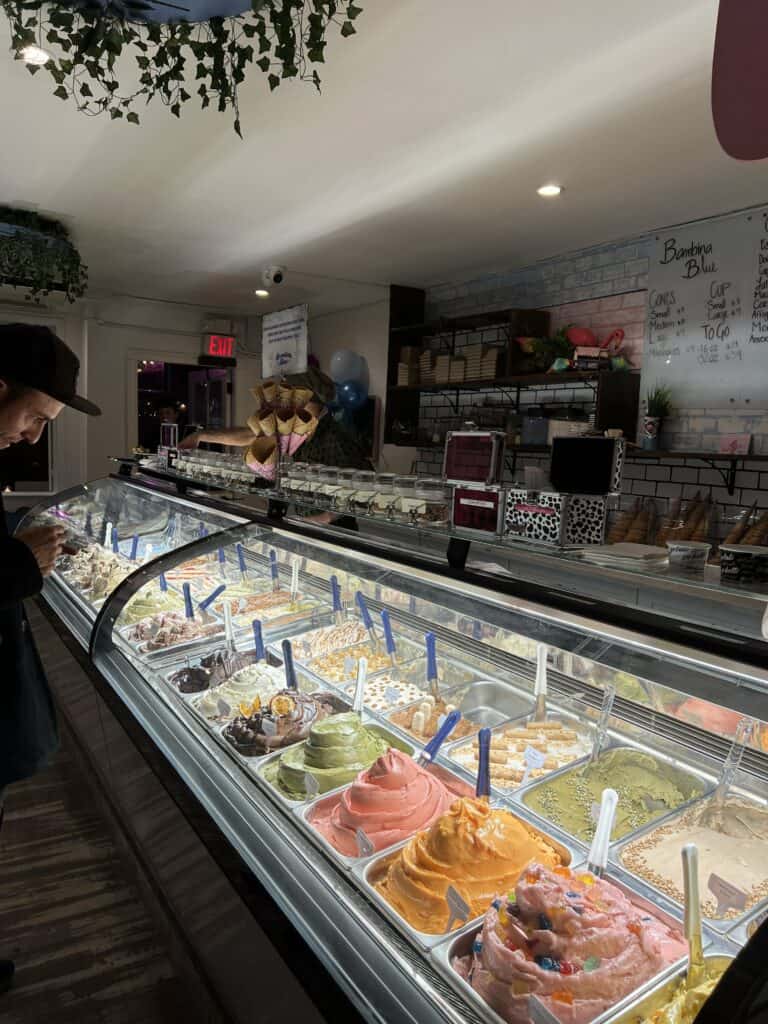 What are Traditional Gelato Flavors?
Italians have preserved the history and process of gelato, pronounced "juh-lah-toh" since the 14th century. Generation after generation has passed down the art of making gelato by using the finest ingredients, such as cocoa or fruits. A great Italian dish must have gelato, and it is available in two forms: cream or water-based.
Here are some traditional flavors to enjoy:
Vanilla: After saffron, vanilla comes in second as the most expensive flavor, and it doesn't have to be boring. Gelato makers create different levels of intensity and color based on other vanilla beans. Gelato with fine vanilla flavoring is brown or yellow, but gelato without intense flavoring is white. Madagascar grows most of the world's vanilla, followed by Mexican and Tahitian beans.
Pistachio: Gelato colors vary depending on the flavorings and the intensity. They range from off-white to green. You can make pistachio gelato with 100% pure pistachios for those who prefer the intense flavor. In contrast, those who prefer a less intense taste can use a mixture of pistachio flavoring and other ingredients, such as almond oil. Some of the best pistachio nuts used in traditional gelato come from Sicily in Italy.
Tiramisu: Gelato flavored with tiramisu will make one of your favorite Italian desserts taste even better. Some call it a "pick me up" in Italian, referring to sugar and espresso's effects. Ladyfingers, cocoa, espresso, mascarpone, and (sometimes) brandy are traditional elements in this dessert.
Zabajone: Traditionally, zabajone gelato is an Italian dessert, but it has a new twist. The dessert is a blend of eggs, sugar, and Marsala wine and dates back to the sixteenth century. They accredit it to the Franciscan monk Pascquele de Baylon.
Yogurt: Don't write this off just because it isn't your regular yogurt! Yogurt gelato is a new traditional flavor among gelaterias and frozen yogurt shops. Gelato with yogurt tastes tangy while being smooth in texture and may even taste slightly citrusy. For added benefits, some gelato and frozen yogurt makers include live cultures and probiotics in their products in compliance with state regulations.
Stracciatella: Stracciatella is an Italian creation that is modern yet classical. It's vanilla gelato with crunchy chocolate pieces in it or sprinkled on top. It is traditional to make stracciatella with dark chocolate. But in recent years, they have used milk chocolate in stracciatella.
Cream or Custard: Dairy ingredients are the building blocks of cream flavors, such as cream, milk, or eggs. While the cream flavor provides a neutral taste, it is best to complement a topping or other flavor ingredient. Sometimes called custard, it's a thickened dessert or sauce made of egg yolks, milk, or cream. A traditional Italian dish you must try! Pasteurization methods in Italy and the U.S. differ, which can affect the taste of cream or custard.
Chocolate: Chocolate comes in close to vanilla as a favorite flavor! They often combine cocoa seeds and sugar to manufacture chocolate products. There are many types of chocolate gelato to choose from, such as white, dark, and milk, but milk chocolate is a more popular flavor.
Hazelnut: You can combine hazelnut flavoring with chocolate. Some hazelnuts come from the north-western part of the U.S., but the traditional hazelnut flavor comes from the Regina and Piemonte regions of Italy.
Which Country Has the Best Gelato?
Alessandro Crispini of Gelateria Crispini won with a humble scoop of pistachio in Spoleto, Umbria. An announcement of the winner of the three-year search for the world's best gelato recently concluded the three-year search. In the Gelato World Tour, it took three years for judges to travel the world, finding the world's best gelato in the "Gelato World Tour." From the findings, Italy carries the cup for the best gelato in the world.
The competitions took place in several countries, with 19 countries competing and 36 contestants making it to the finals. Alessandro Crispini of Spoleto, Italy, won after a three-year search and he owns Gelateria Crispini. His pistachio-flavored gelato won him the award. He sourced the pistachios from three different qualities of Sicilian pistachios, two from Bronte and one from Agrigento.
Gelato World Tour 2017 Results in Rimini, Italy
A three-year international competition known as the Gelato World Tour, organized by the Carpigiani Gelato University and the Italian expo group SIGEP, ended in the world's sweetest contest. Along with Shenzhen and Chicago, preliminary rounds took place in Berlin, Austin, Dubai, Melbourne, Valencia, and Rome. While it may seem strange not to call it the Gelato World Cup, 50,000 people flocked to Rimini, Italy, to sample 5,511 pounds of gelato in three days.
As Crispini clutched his prize-a huge plastic cone decorated with rainbow-striped flames-and a platter of his sage-green creation, he said, "I'm excited, and I didn't expect to win. Pistachio may seem like a bland flavor, but I developed a genuinely complex product after carefully analyzing the raw materials."
Guido and Luca De Rocco won second place with "Tribute to La Serenissima," a grape-strawberry sorbet with caramelized nuts. A mix of passion fruit, Colombian cream, and 65 percent dark chocolate, "Amor-Acuyà" came in third place, created by Colombian chef Daniela Lince Ledesma.