There isn't a flavor combo you can't find in New York, and when it comes to ice cream, it's no different. New York is known as a city of innovators and hustlers – this is where ice cream wants to be when it grows up. You can find the classic chocolate and vanilla, but it won't be long before you crave something more adventurous.
The best ice cream in New York combines wild and wonderful flavors with that smooth, creamy quality that makes our mouths water. Artisanal ice cream and gelato are more popular than ever, combining tradition and skill with out-of-the-box flavors. And what's the best way to beat the summer heat? With a cone or cup of your favorite from the best ice cream parlor in NYC!
What Makes a Great Ice Cream Shop?
The first step to finding the best ice cream in NYC is understanding how to find a good ice cream shop, also called a creamery.
If you're not including the word "artisanal" in your search, you're already falling behind. Artisanal creameries use better-quality ingredients and don't rely on preservatives or artificial colors and flavors. By focusing on producing small batches, they avoid adding too much air to the ice cream, making it much more satisfying.
Another good sign is a wide variety of original flavors or flavor combinations. Like any self-respecting gelateria, we love experimenting with new delicious variations on our favorite creamy theme. Regular ice cream is great, but keep a look out for gelato and sorbets on the menu too. Thanks to its extra-smooth rich texture, gelato is home-sweet-home for most ice cream lovers. Our menu features a whopping 32 different flavors of gelato and sorbet for you to try, including vegan gelato!
One of the most important qualities of a top-notch ice cream shop is the people. There's nothing that matches getting your cold treat with a warm smile. We know that choosing just the right ice cream flavor is more art than science, so patient staff behind the counter is essential.
Depending on your needs and lifestyle, find out whether your ice cream shop offers any special services, like catering or making personalized ice cream cakes. That's our favorite way to celebrate a birthday!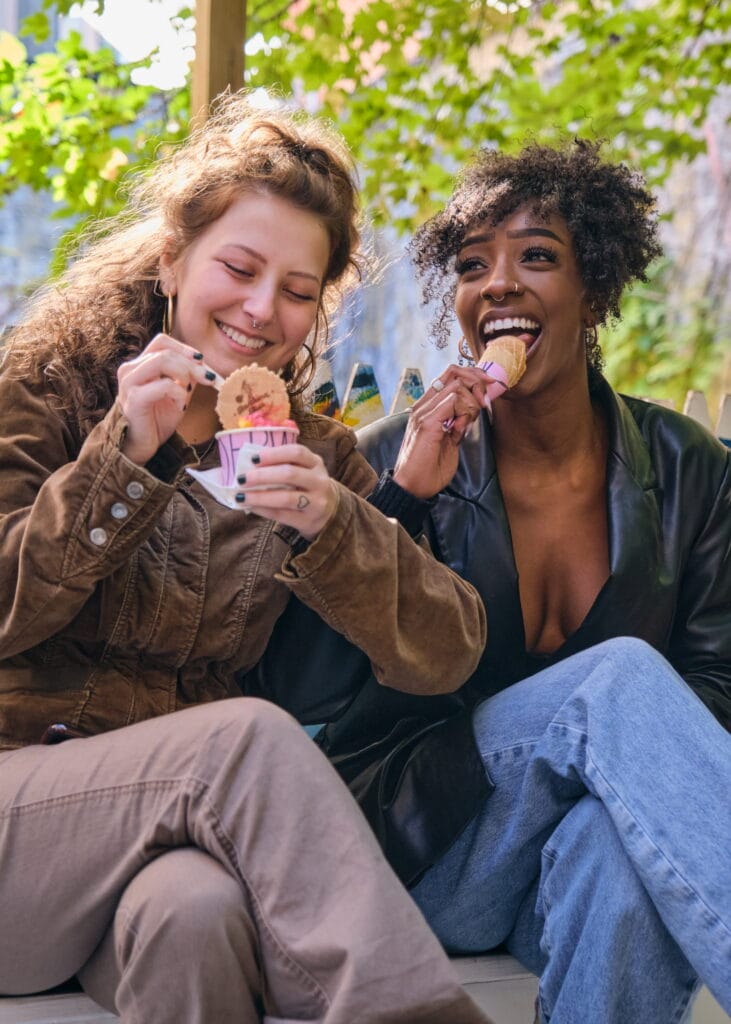 Classic & Innovative Flavors to Try
There's a special place in our ice-cream-obsessed hearts for the traditional gelato flavors: chocolate, pistachio, lemon, and hazelnut, to mention a few. That said, the thing we love the most about ice cream is just how creative and versatile it is. If you can imagine a flavor, there's a good chance you can make it into an ice cream.
One of our favorite flavors is Movie Night – our original popcorn gelato mixed with crushed M&Ms and actual pieces of popcorn. In a little more of a Mediterranean mood? Take a flavor vacation with our Big Fat Greek Wedding, Greek Yogurt gelato with pickled blueberries, olive oil, and sea salt.
Take a look at our menu to check out all the flavors on offer. You can even get a treat for your pup!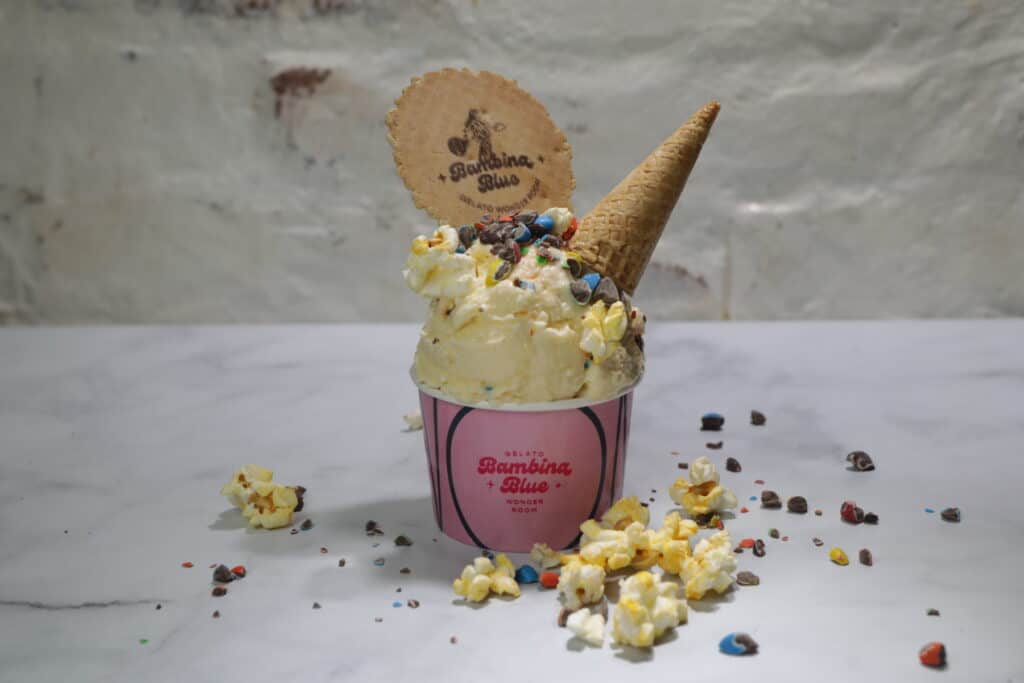 Trendy Delight of Ice Cream Rolls
If you're looking for ice cream rolls in NYC, you won't be disappointed. The craze for rolled ice cream is sweeping through the city, and it's easy to see why. It's ice cream with a performance twist – getting to watch your ice cream being made is part of the fun! The ice cream comes together in the pan before your eyes before being scraped and rolled into its iconic cylindrical shape.
Ice cream rolls are endlessly customizable. You can choose your ice cream flavor, and then go wild with toppings and extras, added into the ice cream or sprinkled on top. Go classic with a simple base flavor matched with chocolate and nuts, or really break out of the box. It's an opportunity to flex your ice cream imagination.
Beautiful Servings at NYC's Best Ice Cream Shop
For us, there's nothing better than that perfect scoop. It's gorgeous to look at, instantly Instagram-ready, and promises that there'll be ice cream in your immediate future.
Everyone knows that you eat with your eyes first. Our stunning presentation takes your ice cream experience to the next level. From getting the topping sprinkle just right to nailing the perfect drizzle, it's all about creating mouth-watering visual appeal. Each of our gelatos and sorbets is a feast for the eyes and a party for the taste buds.
So, what are you waiting for? Come get your hands on some of NYC's best ice cream at Bambina Blue!